TOBI Babybay Convesion Kit for Highchairs - white varnished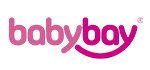 more of Babybay
Only available in our stores at this moment.
Product description
Art.No.: A130103
TOBI Babybay Convesion Kit for Highchairs - white varnished
Once your child can sit unaided, you can convert the babybay into a practical highchair. Tray, seat and footrest are individually adaptable in height.
Remove the tray to convert it into a tilt-proof children's chair.