TOBI Babybay Co-Sleeper Maxi extra ventilated, slate varnished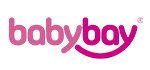 more of Babybay
Delivery Time:

Approx. 2 working days
Free shipping from €50

DHL

Shipping within Germany is free of charge for orders over 50 €.

We charge 4.95€ shipping for all orders under 50€. Book orders are delivered free of charge.

All orders are shipped with DHL and are insured for a value of up to 500€.

After receiving your payment, on-stock items are shipped within 2 business days.

This does not include the actual delivery by DHL. DHL normally requires approximately 3 to 5 business days for delivery within Germany. If you would like to receive your order more quickly, then please select oneday eXpress delivery when ordering.

DHL international

We charge up to 11.99€ for shipping to the below mentioned countries

All orders are shipped with DHL and are insured for a value of up to 500€.



EU-wide shipping information

Country

Shipping Cost

Payment

Shipping Duration

Bulgarien

11,99 €

Vorauskasse, PayPal, PayPal CZ

4-6

Zypern

11,99 €

Vorauskasse, PayPal, PayPal CZ

Estland

11,99 €

Kreditkarte, Kreditkarte, Vorauskasse, PayPal, PayPal CZ

4-6

Ungarn

11,99 €

Kreditkarte, Kreditkarte, Vorauskasse, PayPal, PayPal CZ

4-6

Lettland

11,99 €

Kreditkarte, Kreditkarte, Vorauskasse, PayPal, PayPal CZ

4-5

Litauen

11,99 €

Kreditkarte, Kreditkarte, Vorauskasse, PayPal, PayPal CZ

4-6

Malta

11,99 €

Vorauskasse, PayPal, PayPal CZ

Rumänien

11,99 €

Vorauskasse, PayPal, PayPal CZ

4-6

Slowenien

11,99 €

Vorauskasse, PayPal, PayPal CZ

3-5

Luxemburg

8,99 €

Kreditkarte, EBAY PayPal, Kreditkarte, Vorauskasse, PayPal, PayPal CZ

2-3

Großbritannien

8,99 €

Kreditkarte, EBAY PayPal, Kreditkarte, Vorauskasse, PayPal, PayPal CZ

3-5

Irland

11,99 €

Kreditkarte, Kreditkarte, Vorauskasse, PayPal, PayPal CZ

3-5

Portugal

11,99 €

Kreditkarte, Kreditkarte, Vorauskasse, PayPal, PayPal CZ

4-5

Griechenland

11,99 €

Vorauskasse, PayPal, PayPal CZ

3-5
Product description
Art.No.: A086205
TOBI Babybay Co-Sleeper Maxi extra ventilated, slate varnished
TOBI BABYBAY MAXI COT SOLID BEECH
Even if newborn babies are used to the familiarity and security of being near their mum, many parents leave their babies alone at night—in the crib and in their own room. Babies sleep very unsettled alone; nighttime is horrible for mum, dad and baby: getting up to breastfeed, getting up to soothe or to cuddle—several times per night—this will exhaust the parents. But not only that - it can be also very painful for new moms recovering from a C-section. Secure in the sleep space of his own crib your baby will sleep right next to you. Without disturbing the baby's sleeping patterns.
Finally nighttime will be relaxing for the whole family again. Once your baby has grown out of the baby stage, the basic model transforms with several accessories into a clever piece of furniture for the children's room: playpen, high chair, playing desk, bench, writing desk or even a complete crib.
babybay can be manually fixed to every parent's bed without the use of tools.
It's also easily manageable if you want to use the babybay thoughout the day with you as a bassinet. Just detach the Babybay from the parent's bed.
Specifications:
• Lying area: 89 x 51 cm
• Dimensions (L/H/D): 95 x 79 x 54 cm
• colour: solid beech slate varnish
• Weight: 14 kg
WARNING! Mattress and bumper are NOT included!
Shipping information
Parcel delivery:
We ship your order to the address of your choice. It does not need to be the same as the invoice address. If you are not at home during the day, you can have your parcel sent to your working place, a friend or relatives.
If you are not present at the time of delivery, our logistic partner will usually leave your parcel with a neighbour or in a deposit nearby. In this case, a note will be left in your post box.